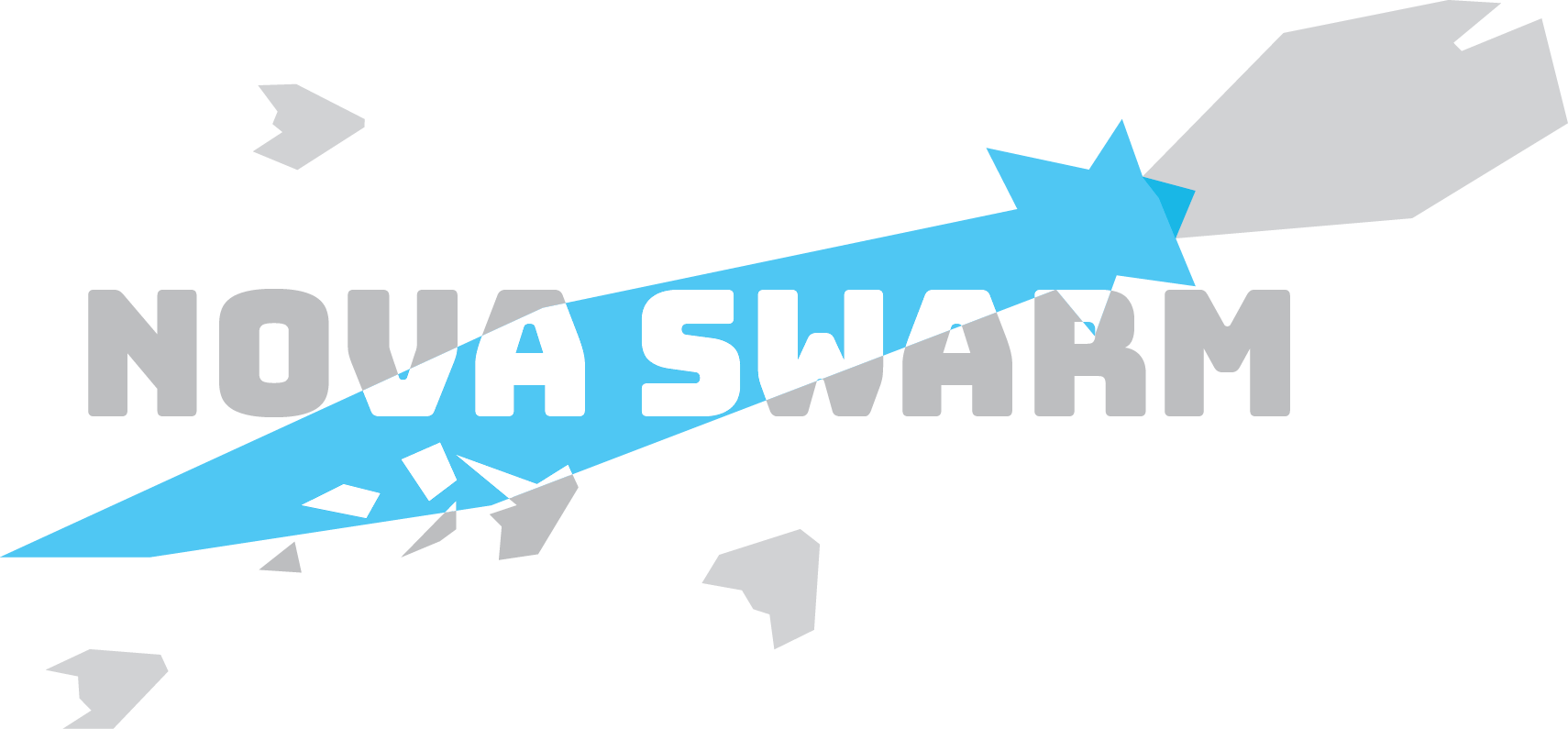 Nova Swarm
A downloadable game for Windows
Nova Swarm is a 1v4 local multiplayer VR space battle game. A maniacal AI ship (the VR player) with a powerful laser, rechargeable shield, and undying hatred of the human race faces off against an armada of humans (up to four players with standard XBox or similar controllers) piloting fragile but agile ships capable of using a variety of weapon and tactical item configurations. Not only that, but the ships are invisible when they're not shooting. Grab four friends, or just face off against some CPU players. Either way, there will be tons of explosions.

VR needs more local multiplayer games.
Playing a single-player game in VR can often feel isolating. Even when others are watching, you're stuck in a headset where you can't see anyone around you. Also, those others may feel left out, especially after the novelty of VR has worn off. VR is such an amazing experience, and it should be fun not only for the person in VR, but for everyone else too. Local multiplayer in the usual symmetrical sense is currently difficult to achieve in VR, but there are a lot of possibilities for asymmetric gameplay. With games like Keep Talking and Nobody Explodes and Panoptic (which is currently a demo), it's clear that there are ways to make VR feel inclusive and fun for both the player in VR and those outside of it.
Nova Swarm pits a deadly goliath of a ship (the VR player) against an armada of little ships (up to four players with standard XBox or similar controllers).
Online Play...
...isn't in this game. YET. Creating a local multiplayer experience was my primary goal, but I sympathize with both the fact that VR is expensive and gathering friends can be like herding space-cats. Getting VR players playing with non-VR players over the internet is now my primary focus on this game, and though I have to balance that with my real job, it's about 50% networked already, and should be ready for online play in a few months. Updates to come!
_________________________________________________________________________
Want to support this game?
If you like what you see and want me to keep making stuff like this, you can donate a bit o' green when you download the game (thanks!)
Alternatively, you can become a supporter of my work via Patreon!
_________________________________________________________________________

This game is in Alpha!
That means there's a good chance things will be broken, weird, or even just plain not fun (though I hope that's not the case!) I'll be continuing to improve on things over time, so it will also go through a lot of changes.
Awesome! I love feedback! Whether you love it or hate it, here's a form you can fill out to voice your opinion. All feedback is very valuable at this stage of the game, so I thoroughly appreciate anything you take the time to say.
_________________________________________________________________________
Controls
The controls aren't listed anywhere in-game yet, so read up on them here if you want the full experience.
Goliath (The VR ship)
Large, powerful, dangerous, and outnumbered
Move around by moving your HTC Vive controller
Laser: Shoot your primary laser by holding the trigger
Dust: Shoot dust (which is attracted to Dragonflies) with a quick press and release of the trigger
Shield: Disable and recharge your shield by holding the touchpad button
Shockwave: Press the grip button to charge and release a shockwave in a large radius around you that pushes away Dragonflies, briefly disables them, and causes them to smoke for a while. You can have up to 3 of these stored.
Dragonfly (The Controller ship)
Fragile, agile, and usually invisible
Aim: Right joystick (press Start button to switch between normal and inverted)
Accelerate/Decelerate: Left joystick, up to speed up, down to slow down
Roll: Left joystick, left and right to roll left and right
Shoot: Right trigger
Shield: Left trigger (Uses energy)
Dodge: Right/Left bumpers (Uses energy)
Boost: Left joystick press (Uses energy)
Gameplay
The Goliath has one life. Its health is shown in red on the top of the screen (and on the Goliath itself)
The Dragonflies have a shared total of 20 lives. Their lives are shown in blue on the top of the screen (and on the Goliath itself)
Dragonflies are invisible to the Goliath unless they're shooting, or if revealed by dust or a shockwave. Be stealthy!
There are several different weapons a Dragonfly can have. You can switch to another weapon by grabbing one of the four red boxes that respawn at the edges of the map.
The yellow stars are powerups.

Dragonflies can collect up to 3 by flying into them. These upgrade weapon reload speed, damage, size, velocity, etc.
The Goliath can collect up to 3 by shooting them. They gain a shockwave for each.

Running into the Goliath will damage dragonflies but do nothing to the Goliath.
"Have you thought about..."
"...Making the Dragonflies 5x faster?"
"...Making the Goliath 10x faster?"
"...Slowing down bullet reloads but having one-hit kills?"
"...Firing the shotgun at machinegun speeds?"
Of course! In fact, if you press ESC or the menu button on the Vive controller, it will open up a Settings panel where you can adjust the way the game plays to your liking, and even save and load your adjustments. That said, if you find that an adjustment you make significantly increases the "fun factor" for you, please let me know in the feedback form!
_________________________________________________________________________

Does this game have a Discord server?
It does! Feel free to join and make your voice be heard:

_________________________________________________________________________
Disclaimers/Notes
This game gathers anonymous data (length of matches, weapons used, damage ratios, etc.) to help gain some insight into what's working and what isn't. It doesn't collect any names or other text information you put in.
This game involves a VR player playing in close proximity to players focused on a screen. One would hope it's obvious, but I'll say it anyway: be aware of your surroundings! That includes both lamps AND other people's heads. We don't want to ACTUALLY exterminate the human race.
| | |
| --- | --- |
| Status | Prototype |
| Platforms | Windows |
| Author | PB&JoyGames |
| Genre | Action |
| Made with | Unity |
| Tags | Bullet Hell, Controller, Flight, Local Co-Op, Local multiplayer, Space, Unity, Versus, Virtual Reality (VR), Zero Gravity |
| Average session | A few minutes |
| Languages | English |
| Inputs | Xbox controller, Gamepad (any), HTC Vive |
| Multiplayer | Local multiplayer |
| Player count | 1 - 5 |
Download
Click download now to get access to the following files:
nova-swarm-windows-alpha.zip
126 MB